Don't Want to Pay for Our Travel?
At Devoted Pawn Consulting  we are always working hard to provide the best value in the industry to our clients.  We do this because we care more about your success than we do about the money that you pay us!  Over the past 5 years we have been working to create the most affordable packages ever, and we are now ready to launch our totally digital, offsite, remote pawnshop consulting!  The future is here!  This is by far the most affordable consulting in the industry and the return on investment is still very high!
What is Our Mobile Consulting?
While we firmly believe that the best value involved in consulting comes from being onsite and observing your entire operation, we also believe that tremendous value and return on investment can happen with our remote support. We have been testing this with select clients all over the United States and Canada for over 5 years and those clients consistently see similar results to our "normal" clients and service packages where we visit them live onsite.  During its testing, our clients have saw increases in the pawn balance of 15%, increases in service charges of nearly 20% and retail sales of around 15% in their businesses versus 20-30%, 30%, and 25-30%  respectively in our  onsite consulting.  As you can see, the return on investment is incredibly high.  So what do the packages include as far as training and development and what is the cost?
Package Offerings and Pricing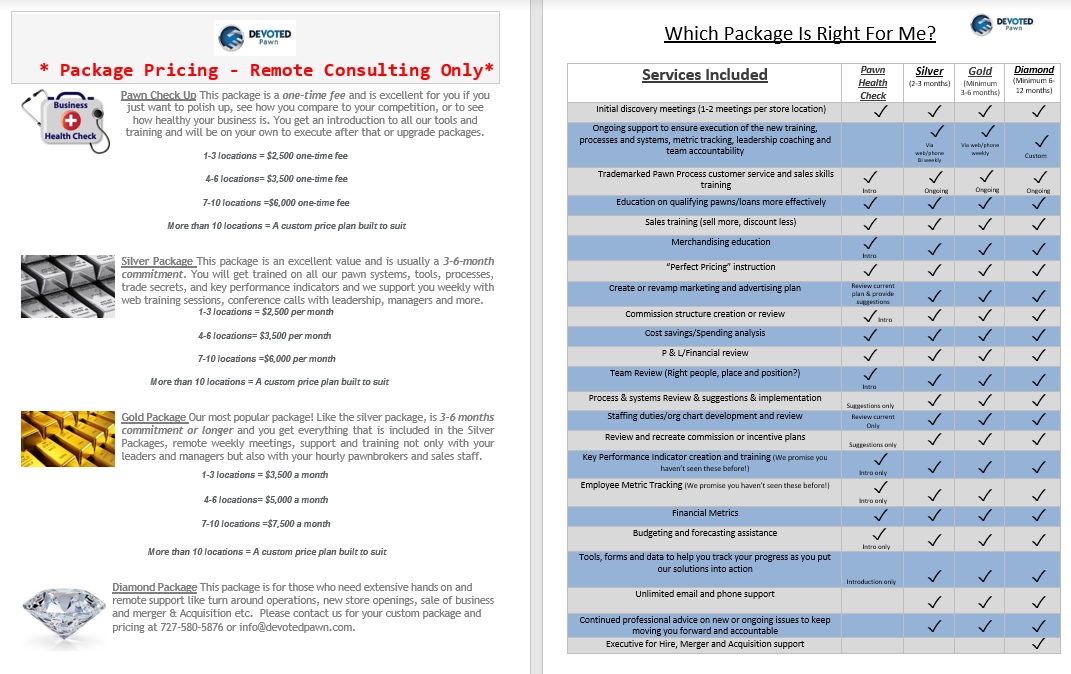 We believe that our consulting packages,  whether done remotely or not, have more services, training, development, marketing and things to make you more money than anything else in the industry.  That is because we designed our consulting to teach you how to be self improving and growing long after you pay us for our services and  that you never need to use us again unless your situation or circumstances change dramatically.  To Find out more details of exactly what is covered, trained on and give to you in each package please visit our Mobile Pawnshop Consulting page or contact us at 727-580-5876