So What is the Pawn Process ™?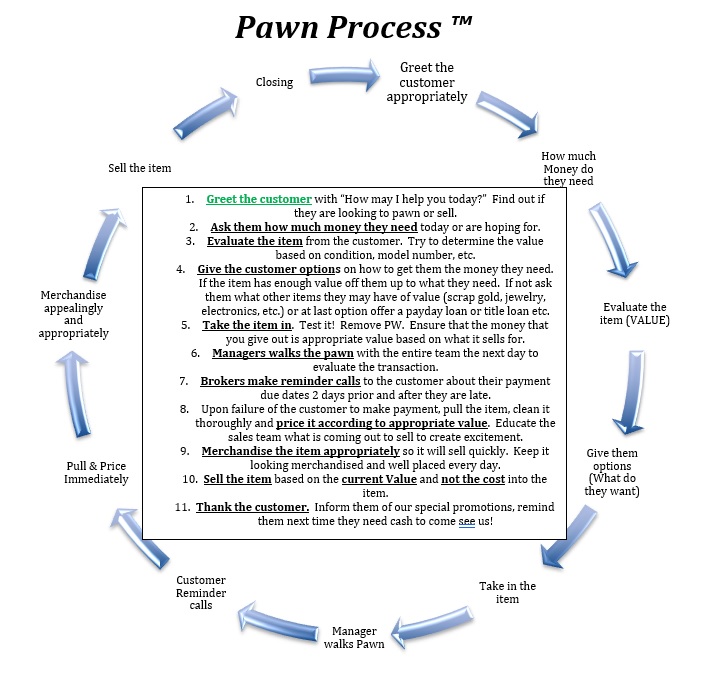 The pawn process was designed by Vernon Stading and his team of pawnshop consultants who combined have 65 + years of experience in the pawn business .  It is an amazing tool and guide to provide the best hands on training around for pawnbrokers, owners, managers and sales staff.  If you want your team to be more successful in all areas of pawnshop operations, then you need to be trained on the Pawn Process ™.     The Pawn Process ™ is FREE and included in all of our Consulting Packages!  Check them out to find out more!
Greetings- Everyone in the pawn business knows (or should know)  that the greeting and initial customer interaction is key to understanding the needs of the customer.  For example how much money do they actually need,  have they been here before, what is their history with us and do they want the item back just to name a few.  Our process and training will help you define all of this and more extremely quickly and proficiently while building rapport and developing a rock solid relationship with your clients.  This is the first step to keeping them from going elsewhere.
How Much Do You Need- This is always a touchy subject because the customer is always going to ask for the "maximum amount" or "how much can you give me" because in this industry we or our competitors have conditioned our customers to expect the low ball offer or that we will pay more if they do a loan.  We will teach you how to break this cycle with the customers because the days of loaning the maximum amount to them in the hopes of getting the most interest paid just does not work anymore with the savvy marketplace.  In conjunction, we will train you and your team how qualify the loan better and differently and to come up with a offer that allows for maximum services charges, pick ups and profitability upon default.  You can win every transaction without breaking the bank and upsetting your customers.
Win Each and Every Transaction- Winning each transaction is the key to being profitable in this new age of pawnshop operations.  This industry has changed more in the past 10 years that it did in the last 100 prior.  The days of loaning the maximum amount has burned out a certain segment of the customer base and made it impossible for them to redeem their items.  It also opened the door for competition to move in.   This is especially true in the higher interest states. This coupled with the world wide web at everyone fingertips has been detrimental to our business.  We will teach you and your team to win each and every transaction even if you and the customer are far apart on price.  It is very common for our clients to see increases of pawn book of 20-50% in the first 90 days!
Collect Those Service Charges- As referenced above, loaning the "maximum amount" to our customers has burned them out and backfired because the redemption ratio goes down, the interest collected (service charges) goes down and customers don't return.  Those things also mean that sales and pawn balance also decrease.   With our process and training, you are guaranteed to see increases in pawn balance, service charge fees, retail sales, and redemption.  Each of these items helps your cash flow immensely and allows you to self fund your loan growth without borrowing money.  We regularly see increases in redemption ratio of 10% or higher and our clients can attest to their growth of service charges as high as 30% or higher!
Perfect Pricing – Having products priced incorrectly leads to two major issues in your business.  If the products are priced incorrectly and too high, you get aged inventory that doesn't sell and decreases in value (perishables). In this scenario you lose tons of sales and profit margin as the items decrease in value.  The second scenario is that you are priced too low. In this scenario, you are leaving tons of money on the table.  We will not only teach you how to price your inventory perfectly for retail, but also online sales.  The training earlier in our process will also result in you being able to pull inventory as soon as legally  possible without upsetting the customer.  This results in higher sales margins due to less depreciation.  This part is essential to your maximum profitability as this industry continues to change.
Merchandise to Sell– One of the biggest mistakes pawnbrokers make is not making their merchandise appealing to look at in the retail sales floor.  This costs you big time in sales!  Especially to your regular customers because they think they are seeing the same things.  We will teach you how to set your store up for success and how to often times turn your inventory  twice as fast!  We will also teach you how to perfect your online postings so they sell faster and if you don't sell online, we will help you create this program from scratch.  Sales is still your largest profit margin so imagine how much more money you can make with this process!
Make the Sale!– Often times in stores with clients, we see that one of the major areas lacking in education is the sales portion of the training.  Especially when it comes to high end items such as jewelry and purses etc.  We will teach you how to romance the jewelry sale and to sell your other perishable items with less  discounts.  Both of these mean more profit for you! It is very common for our clients to see increases in gross profit of 10% or higher and overall sales increases of 30% or higher!
In addition to all of this amazing training, you will also learn even more!  We will also teach you how to market internally to your customers, and via social media which can be done  for little or no cost.   We cannot assume that our loan customers never buy items and that our sales customers never need cash fast.   We will show you proven marketing messages and signage that are sure to jump start your business into the new way of doing business.  #takethechallenge today!   Contact us to find out more about how this process can be a game changer for you and your business!