Need Help But "Can't Afford it"?
Devoted Pawn Consulting has partnered with our Not-For-Profit, Devoted Foundations to help pawnbrokers like you that want or need our services but feel that you cannot afford it.  Becasue Devoted Foundations relies on donations to provide consulting support, they are able to use those donated funds to hire us and allow us to give you the support that you need to get back on track, become more profitable and successful.
How Does it Work?
If you feel that you need our services and cannot afford them but want to take advantage of this amazing support through the nonprofit, the first step that needs to happen is to have you apply for our help.  Once you contact us, we will reach out to you to help you figure out what type of support you need, how much travel may cost, and whether the support will be 100% free or a modified combo of you as the client paying a portion of the cost, and the rest being paid through the non profit.
Services Provided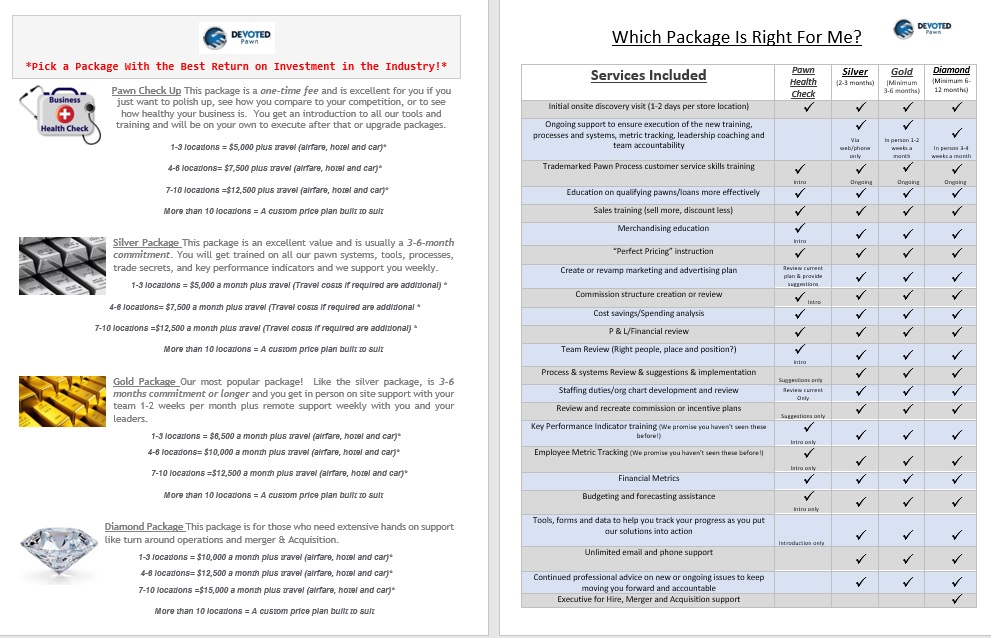 Additional Services & Hourly Rates
Commission and Bonus– We help pawn businesses just like yours make more money and be more successful by helping them create the perfect commission plan for your hourly staff and bonus plans for your managers.  The perfect commission plan for your business means better employee performance, better employee retention and more profit!
Create Online Sales Programs and Initiatives– We have helped create online sales programs where you can market, advertise and even sell your merchandise online.  When you have tons of inventory, finding out where to begin is a daunting task. We have done this for not only pawnshops, for second-hand goods retailers, e-commerce companies, cell phone stores, jewelry and watch buyers and sellers, and so much more!  If you need to get an online presence we are the folks that you need to talk to!
Executive for Hire– Because our owner also owns another consulting firm, we are able to offer executive for hire. Whether you are in need of COO, CEO, CFO or CMO help on a temporary or more long-term basis, we have you covered.
New Store Openings– We help pawnbrokers prepare for and launch new store openings.  We believe the planning of a new store opening is paramount to the success of its operation and longevity.  We as owners have a tendency to want to take our best managers from our existing locations to open their new one.  While this has good logic, it also creates problems.  We have opened hundreds of locations nationwide over the years, so we are your best resource when it comes to new location openings.
Pawnbroker Training– We offer hands on training of your entire staff from the pawnbrokers all the way up to the leaders and managers.  This training includes sales guidance, pricing, merchandising, how to qualify loans properly, how to build rapport with customers, how to collect more interest on pawn loans, and so much more!  The best part is that this training is FREE with the purchase of any pawn consulting packages Silver or higher.
New-Age Marketing and Advertising Plans –  We will help you create a new marketing and advertising program that provides a maximum return on investment.  Many parts of the plan will require minimal dollar expenditure while still providing maximum increased traffic.  We understand what "old school " advertising works, but more importantly we use our experience in other industries to target customers who are not using our services and get them to not only come in and see us, but those that already do use us to use us more frequently.
Key Performance Indicators(KPI)– We as a team help you define what key performance indicators you need to know, how to manage and track them, and more importantly we teach you how to use these metrics to understand what is going on in you business; both good and bad.  We take those key learnings from the metrics and apply it to the pawnbroker training to make your business more successful.  We have been told that our metrics are better, more unique and more accurate than that of even other pawnshop consulting groups
Keys to Success®– Does your business have a hard time finding the best talent and then retaining them?  Average industries in business today see over 50-75% turnover rates or higher.  That means if they have 10 employees, 5 of them or more leave each year and need to be replaced.  What if you could train and develop all of your leaders from the ground up, including even entry level employees that become upper level managers?  We believe this is possible and can show you how to do it!
Merger and Acquisition– As a pawn shop consulting group, we specialize in helping businesses like yours successfully buy and merge other pawn shops into your empire.  One of the keys to this is that as the owner, you will need to and want to incorporate best practices and training from the new pawnshop to the old one and vice versa.  This causes challenges on many levels especially making all locations operate the same way with the same processes and procedures.  We are experts in this area and have decades of experience doing this.
Contact us today to get your consulting scheduled or call us at 727-580-5876!
Tags: Free pawnshop Consulting, Devoted Pawn Consulting