What Do Our Clients Love About Our Consulting?
Every Client is different and yet share so many similarities regardless of whether they are single unit or large chains.  And still our Pawn Process Consulting™  works for everyone is so many different ways!  It made us think what do our clients see as the most important or best par of our consulting.   We surveyed all of our clients and of the 187 responses we got back, here are the replies :
We had nearly 200 responses to our survey on what they loved the most about our consulting and the number one thing didn't shock us!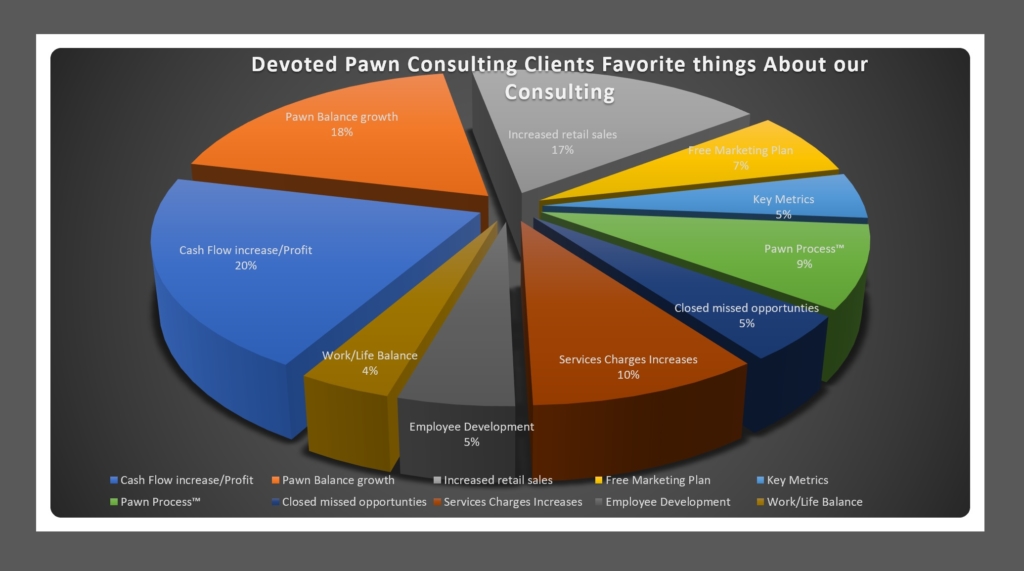 Cash Flow Increases/Better profits is the number one thing that our clients said.   This doesn't surprise us because our consulting was designed and originated from the fact that we used to take under-performing stores, buy them, get them healthy and profitable and the either keep them or flip them for  profit.  Since those days, we also learned to ensure that this profit isn't just short lived but can stand the test of time.  Our clients see a tremendous amount of profit and cash flow increase in the first 90 days as verified here in our testimonials.  If you need help making more money of improving then cash flow, we are the people to call
Pawn Balance Growth is the second most loved thing that our clients appreciate about us!  Our Pawn Process training is geared in part to help you the owner close more deals where the customer wants too much money for they stuff, take in the items you actually want, and get them to bring in their best merchandise.  This in our opinion is the best part of the training that we do and is sure to help ANY pawnshop ANYWHERE grow their balance.  This is a big statement, but we guarantee that it will not only grow but be good loans that collect more interest than ever before.  Contact us today find out more how we help your pawn balance grow in such a healthy way.  Our average clients see increases in this area of 30% or higher and you can too!
Increased Retail Sales is the 3rd most popular response in this survey and we are not surprised.  We hear all the time that "I have never seen or heard anything like this sales training".  That is because no one else comes close when it comes to our sales training in our opinion.  This is because we not only do hands on sales training with all your staff, but we incorporate merchandising, signage, sales tactics, key words (that we call circuit breakers) and so much more.  If you want to increase you retail and online sales, there is no one better than us to help you.  Just ask our clients that have used other consultants!   Our average clients sees 30-40% increase in retail sales and you can too!
Pawn Service and Interest Charges Increases where the next thing mentioned in masses.  This is also a huge part of our Pawn Process™ and we teach things from other industries that allow you to incorporate into the pawn transaction that allows you to not only develop a relationship with the client, get them to bring in their best items (not their junk), to pawn more than one item (because for some reason some people think they can have only one pawn in one store at a time), and to pay their interest each and every month even in areas that are 4 month or longer loans.   No one else in the industry trains and teaches this way.  Come find out why it is works in every nation and continent on the planet!
Name Your Price For our Services! 
There are many other areas that customers commented as you can see in the pie chart on but the important that we want the stress with you is that regardless of whatever your issues ore challenges are, we can help you. It does not matter where you are,  how many stores you have or the problems that you face, we have seen It before and helped create a solution or an increase in that area in the past. In addition, we care more about the success of your pawn shop then we do about our own profitability period for a limited time only we are offering a promotion that allows you to pay it deposit now and name your price for our services.   This promotion will not last so please take advantage of it today. Contact us today at 727-580-5876 to take advantage of this offer!