Your business is leaving tens of thousands of dollars or more on the table per store and we can prove it with a free 20-minute consultation!   If you don't address this, you are gambling with your business, your source of income and the stability in your life. The time is now to make sure your Holiday season is the best!  We are the only folks in this industry that can promise and provide the following things to your business:
First, we offer you tools to show you where your business has opportunity to make more money. In fact, our tools will even show you exactly how much money you can make by bringing us in. Talk about transparency…..  We promise to not be an expense to your business, but instead, a major return on your investment! These tools will also help you measure (and hold us accountable) to your results to prove to you that what you are doing is working (once you have made the choice to use our services).  We promise that these tools and metric tracking is unlike anything you have ever seen before.
Second, we offer a Pawn Process and training to your team that promises to make your business more successful, more productive, and more profitable without spending one more cent in your business. We do all of this for a fraction of the price that anyone else in this industry does, and we do it in a way that doesn't require tons of your time to do it. Less of your time + less money paid out + better tools, processes and training = more profit than ever before!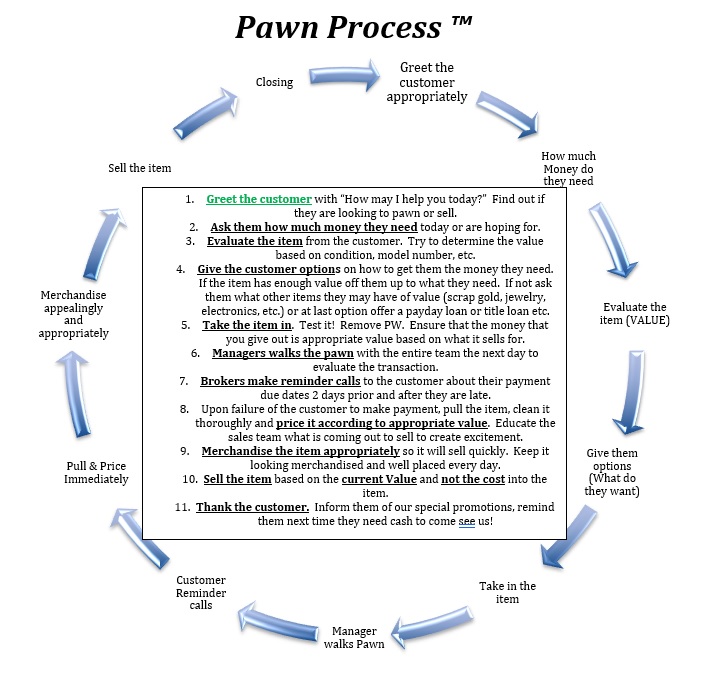 Next, we teach you how to grow your business in a business development manner. This means that you can grow your business without spending tons of money on marketing, new modules, old marketing ideas, expensive focus groups and new symposiums. You can grow your business long term and make that growth sustainable without spending money on anything other than from us teaching you once how to achieve it. #takethechallenge and find out for yourself.
Lastly, we don't need your detailed financial information such as balance sheets, profit and loss statements and or banking information just "to help you". You can feel secure that we will not have your personal or business' private information on hand and not have to worry how that information will be used or secured after it leaves our hands. We never ask for your financials unless you are wanting our pawnshop consultants to review them to help find issues in your spending and operation, and we can help identify business operational opportunities without them.
Our goal at Devoted Pawn Consulting is to have you become successful, the most cost-effective way possibly, and without you becoming dependent on us for these results. If your business doesn't see dramatic results with your pawnshop consulting, then why would you continue to use those services? We challenge you to come find out why we are becoming known as the new age pawnshop consultants that deliver the best results, the fastest way possible and that make your business long term successful for the change that is coming in this industry. Contact us today to find out more about how we can help your business today!